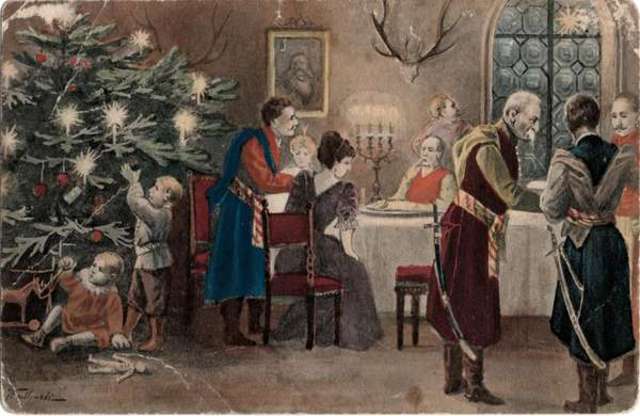 Funny Christmas greetings.
Funny Christmas greetings - a smile is an indispensable element during holidays, and such can provide funny wishes for the holidays.

---
How many decorations for the Christmas tree,
how many sheets are in the mailbox,
how many dishes are on the table,
how much hay do you have in the barn,
how much snow has fallen in the mountains,
how much time do you spend on the run.
Have so much joy during Christmas, Okay, warmth and love.
---
On the occasion of Christmas, I wish you all the best.
Fulfilling your innermost dreams, very happy events in your life.
Lots of gifts for the Christmas tree and always smiling face.
And in the New Year, a loving person by your side
---
Like Bond, Santa runs away unnoticed,
He comes to grandma like a cat, to my wife,
He leaves a dream toy under the tree
And he left you a special package!
---
The snowmen chirp the happy news,
That it's time to greet the little Child.
I am sending you my best wishes during this holiday season,
Merry Christmas and a dream come true!
---
Happiness, health, Good luck
on Christmas Day.
A barrel of beer, buckets of vodka,
to chase away all sorrows.
A hundred kisses on top of that
to make the wafer tastier.
---
On a scint, bless you, for this Christmas.
Cobysts were healthy, they rejoice as in heaven Janiel.
The guests were full of guests - as on a lotus branch.
Cobysts had full lobbies, full poodle.
Coby wom the hostess at the stove did not lose weight!
Coby she wom darzylo, bought, dyslem to the barn lobrucilo.
So Wom God give it. Hello! Hello! Hello!
---
Holidays are beautiful and enough!
The table gives way from the dough,
The carp is shaking in the jelly,
Calm, love are in the world.
The children eat the cookies,
And the first star in the sky,
The candle is burning with a golden glow,
They are all in the family circle.
The scent of spruce is rising,
Mom is already asking for the table,
Time will make the carol tact more pleasant,
We sit down to Christmas Eve!
---
Let the Christmas tree burn,
Let the carpik drown,
Let the house stand on its head
as long as there is happiness and health.