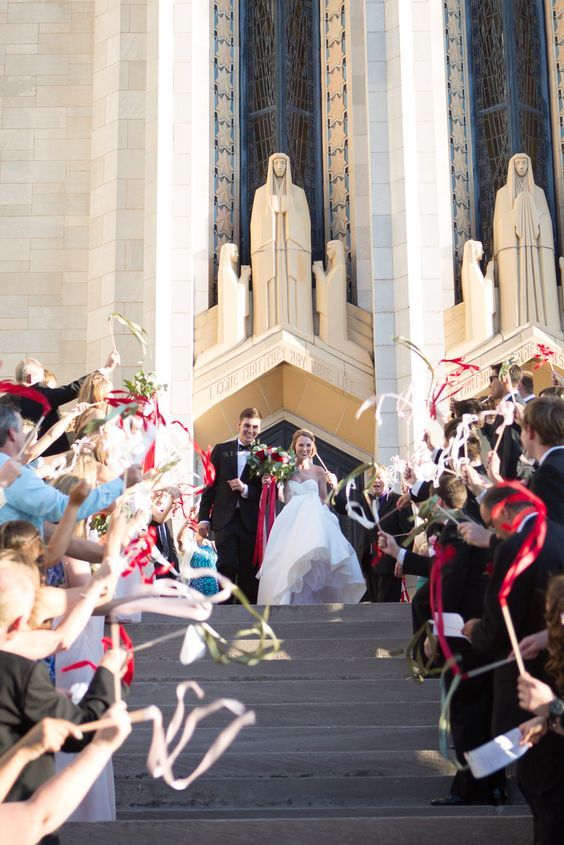 RINGS
Wedding rings are given by a fiance. Mostly they are golden, and on the inside you can engrave the initials of the spouses and the date of the wedding.
The fiancé slips them into a jacket or vest pocket and hands them over at the priest's request.
CHURCH CEREMONY
It is prepared in the days leading up to the wedding with the participation of the priest, who is to celebrate the mass. This could be a family friend or parish priest, the mass may also be concelebrated. The sacrament is administered either before Mass, or after reading the Gospel. The bride and groom take the oath in the presence of witnesses, then the priest blesses the joined hands of the spouses, and they exchange wedding rings. First, the groom puts the wedding ring on the spouse's finger, then she does the same. The priest gives a short speech and continues the rite.
WISHES AND LEAVING THE CHURCH
After the end of the mass, the newlyweds and witnesses sign the marriage certificate (in Poland it is done in the sacristy before the ceremony). Next, if the bride and groom want, say a short prayer (often in front of the altar of the Virgin Mary, on which the bride puts her bouquet).
Then comes the time for making wishes. The bride and groom stand in the aisle, next to them, witnesses and parents, who congratulate them first, and the guests line up and approach the bride and groom one by one. Sometimes this long and tedious form of making a wish is given up, to do this at the beginning of the wedding party.
Procession. The ceremonial march from the church to the sound of the organ can be opened by a pair of small children, followed by the newlyweds, Come on groomsmen, mother of the bride with the father of the groom, the mother of the groom with the father of the bride (family reunification symbol), grandparents and family (gentlemen lead the ladies by the arm). The procession is moving slowly, to facilitate the photographer's work. Depends on local customs, the young couple is thrown around with small coins or rice. If the restaurant or wedding house is far away, the bride and groom are driving the car, and if we find ourselves right next to the church – they go there on foot, together with the guests.
When an officer is married, military colleagues form an honorary line in the church yard.